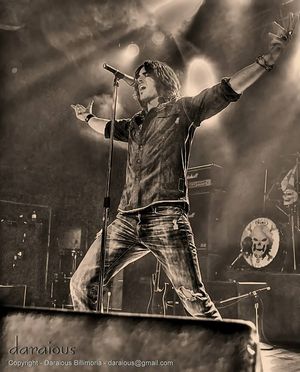 Jesse Jack Racicot is more than just a hard strumming, piano pounding rock singer from Montreal, but is also an avid songwriter and producer. With thousands of live performances under his belt, he has captivated audiences internationally with his electrifying stage presence and explosive vocal performances. Jesse Jack's musical drive began in high school after closing a deal to write the theme song, with his band Splint, for a new Pfizer drug being introduced on the world market. The success of the song lead to his introduction to renowned Juno nominated Jazz artist Jeri Brown, who took a vested interest in his career direction and vocal shaping. At the request of Jeri, he was asked to perform at the Montreal International Jazz Festival's 2006 Big Event; a Paul Simon Tribute Concert, sharing the stage with Elvis Costello, Ariane Moffatt, Michel Rivard, Daniel Lanois, Sam Roberts, Colin James, Bedouin Soundclash and Holly Cole, just to name a few. The show, attended by over 150,000 people, was broadcast on Bravo, ArTV and CBC television.  
Jesse Jack began working on a solo EP with Steve Segal, former April Wine guitarist. Concurrently, he was recording with Montreal based Hard Rock band Shotgun Highway on a self-titled EP produced by Jiak DP. Both albums received a notable amount of radio and Internet airplay. Jesse Jack and Shotgun Highway quickly grew in popularity and were soon headlining festivals and filling large venues. The band took this opportunity to do some philanthropic work with Rose Carty, CEO of Music for Life Concerts, and Radio MC Larry Day, organizer of Starlight Foundation's summer concert series. After their debut EP release, several European Management companies and record labels were expressing interest. Jesse Jack took this opportunity to work with producer/engineer/keyboardist John Webster and producer/engineer/guitarist Kirby Kaye. During this time, Jesse Jack was finishing up a bachelor of science with his sights set on becoming a doctor. After the many hours spent in hospitals working closely with doctors and patients, he came to the realization that the world could be better served utilizing his unique gift of bringing change through music.  
After graduation and considering all offers on the table, Jesse Jack worked with VooDoo Records owner/producer Mike Dmitrovic to assemble, produce and record a project. During this time, Jesse Jack began a freelance collaboration with Toronto based producer Doron Zor on the production of music for licensing and Television through Universal Music.  
After a notable writing stint for some of the music industries finest, Jesse Jack returned to Montreal and joined local Rock band Treble Effects. In mid 2013, he was asked to front Montreal based Progressive band Transcend. Jesse has been performing the lead vocals during 2013 and 2014 on his side project Honor First (previously Heavens fire). Honor First is a Melodic Rock/Metal band based out of Toronto. With Honor First he has had the privilege of working with some of the music industries finest. In 2014 a re-release of Judgment Day AD working with producer extraordinaire Michael Jack.  
With the success of Jesse's first single "Thinking of you" he continues to work on his much-anticipated solo project. He is working with Micheal Lattanzi from the acclaimed Lattitude Studio South in Nashville. During these sessions Jesse will have the opportunity to work with many of the industries top musicians.